The news isn't good for 2018. US CO2 emissions are estimated to be up 3.4% from last year, from a new Rhodium report. The details of that report are really interesting.
Unpacking those in order, we're doing a good job at electrifying everything, however where we get that electricity from isn't keeping up with demand. In the past the building of new Natural Gas power generation basically was at the expense of Coal power. But, now we're at the point where the bulk of new demand is being served by Natural Gas, as we can't build zero carbon sources nearly fast enough to keep up with new demand (not even to mention retiring old sites). A carbon price would be really effective at changing this equation.
Transport is really interesting, because buried in the report is this really interesting graph: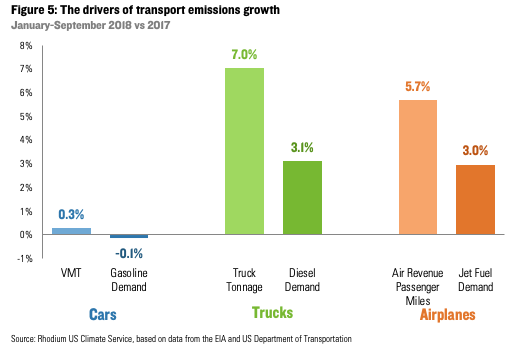 Even with all the growth, gas demand was down. This further supports the theory that we're at peak car that's been floated in a few other places. Transportation sector emissions are still growing though because shipping (via trucks) and air transport are still on a growth path.
Buildings were another area where things were problematic, and a big part of it was the polar vortex last winter. We had just converted over to geothermal, and the fleets of oil trucks running all over last winter were notable. The buildings sector really needs more performance standards/building codes, and pushes for enhanced insulation and heat pump conversions. Our conversion from fuel oil to geothermal last year took 7 metric tons of CO2 off the board, which was the single biggest change we could make as a family.
Industry was the last huge add. I do wonder if they will have deeper numbers on what actually was going on here. What gets in this bucket is not always what you'd expect:
Close to 20% of it is petroleum refining, which means that a lot of this could be attributed to increased US exports of fossil fuels, and the push this administration has made there. It is one of those areas where we get a 2 for 1 if we reduce fossil fuel demand other places. A carbon price would help here quite a bit, and help more generally in the rest of the industrial sector as it would let each part of it figure out how to do what they are doing in a more carbon efficient way.
While the report is not good news, it's at least helpful to see what actually was driving it to figure out what kinds of policies would help.